Law Firms: The Most Common Mistakes to Avoid When Choosing a Cloud Provider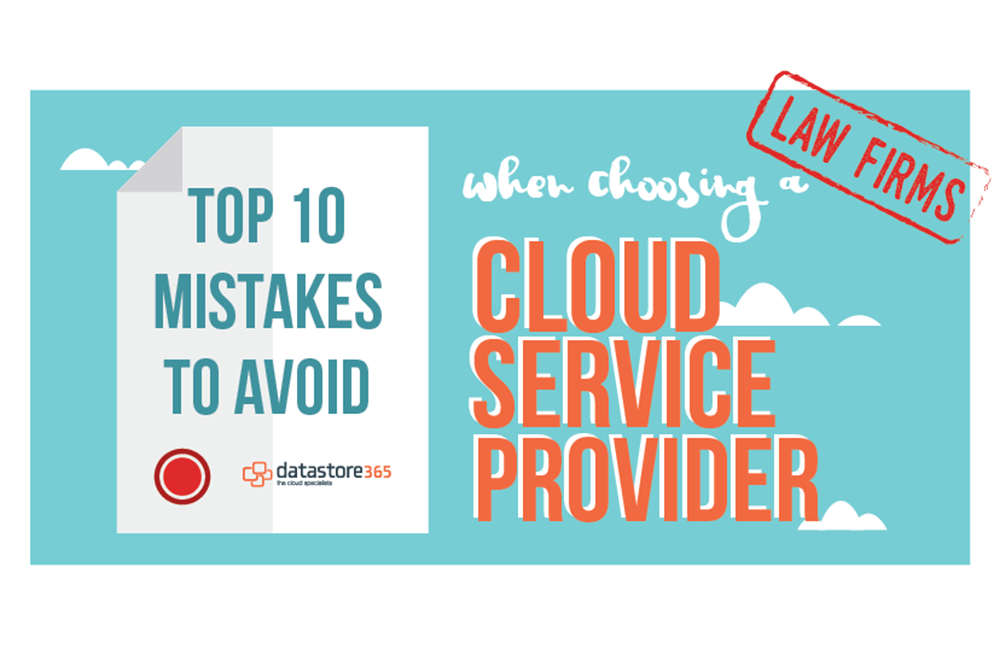 So, you're ready to become one of the many law firms taking advantage of the cloud for cost savings, security, flexibility and recoverability right? High five!
To ensure you avoid a number of mistakes that are commonly made when choosing a cloud service provider, our experts have put together a few things to avoid, consider and look out for that will help you meet the highest standards for your ethical obligations, client service and efficiency.
Mistake #1 – Not knowing where your data actually lives.
It is essential that you know where your data will be stored, as, depending on the geographic location of your cloud provider, and the locations of their datacentres, it may fall under different regulations.
The Law Society of Scotland and of England and Wales are very clear that the datacentre that legal firms select to use must be UK based. Additionally, it is vital that the datacentre must not be owned or part-owned by an American organisation – or you may find that your firm falls foul of "The Patriot Act".
Mistake #2 – Confusion around the ownership of your data.
In 2011, Dropbox briefly updated its terms of service to include a statement that permitted Dropbox ownership rights over its users' data when stored in the cloud. Ownership quickly reverted back to the users in response to public outcry, as Dropbox backpedaled to explain to users that it only needed access for administrative purposes.
Check your service agreement. Ensure it states that you retain ownership of all data that is stored on the cloud server(s) – this way you'll always be able to access your case and client data in the event that you terminate your relationship with the cloud provider.
Mistake #3 – Overlooking the importance of backing up mobile devices.
The growing increase in the use of mobile devices in the workplace means employees are accessing sensitive data on an ever-growing number of endpoints including laptops, smartphones and tablets.
Choosing a cloud provider that offers a range of Cloud Backup Services for mobile devices is the best way to ensure all employees operate on the move without the worry of security risks.
Mistake #4 – Relying on multiple parties for services and support.
Having multiple vendors means there are multiple points of failure. The finger is pointed in opposite directions and you, as a business, end up suffering. In an ideal world, your issue is resolved quickly, and easily, so you can get back to business as usual.
When selecting a cloud provider, it's advisable to choose a company that takes care of system maintenance, security updates and software upgrades for you. A fully managed service provider will provide your firm with:
Automatic and managed back ups
24×7 monitoring
Automatic software upgrades
Taking advantage of a cloud providers' ability to offer you additional services such as DRaaS, Virtual Infrastructure, Hosted Exchange, Web Filtering, Email Filtering & Email Archiving in addition to just online backup, will save you time and stress further down the line, as, if any problems were to arise, you only have one phone number to call.
Mistake #5 – Choosing price over best practices.
We've all been there before – businesses in every industry see a low price and get excited about an amazing cost saving, failing to realise the long-term implications or the impact of cutting out essential services. It's easy to get sucked in by a low price, but this may cause grave consequences further down the line.
Cheap options may not provide you with automatic backups, the level of security needed to comply with industry guidelines, disaster recovery as a service or an uptime guarantee to ensure minimal down time. On the contrary, choosing an expensive option may result in you paying for services that you just won't be making use of.
Mistake #6 Forgetting about what happens to your existing data.
What will your selected cloud provider do with your existing data? Will they transfer your existing data into the cloud? It's essential to find out what happens to your existing accounts and information when changing to a cloud-based system and establish if the cloud provider can transfer your data in a format that it can be used within the new setup.
Furthermore, you want your cloud supplier to promptly and efficiently transfer any existing data (files, case history, documents and emails) into the Cloud for you, ensuring the move is seamless and secure.
Mistake #7 Settle for a poorly explained solution.
Any cloud provider is entitled to expertly explain the process to you in a language that you understand. It's important to discuss expectations and goals, and you should be in complete confidence knowing what happens next, and when.
A detailed information pack should be supplied, timescales discussed, and by no means should there should be any last minute surprises. Costs, software licences and hardware should be covered.
Mistake #8 Neglect industry regulations and professional conduct.
Ensure that the following obligations are, where appropriate, addressed in the terms and conditions set out and agreed with your cloud computing service provider:
client confidentiality
data protection
business continuity
any other professional conduct obligations and regulations
Mistake #9 Selecting a bigger cloud provider that overlooks your requirements.
Bigger cloud providers do display their deliverance of stable and secure services, but it's important to remember that they may not be able to do the same for your small to mid-sized company.
The provider's approaches to high profile clients are normally, on more occasions than none, very different to small and mid-sized ventures. Don't expect negotiations made on your terms – and expect to end up paying more than your firm needs to.
By choosing a cloud provider that specialises in catering for SMB's, you can rest assured knowing you will only pay for what you need. Datastore365 is proud to offer bespoke solutions for businesses of any shape or size.
Mistake #10 Assuming 'one-size fits all'.
In the world of cloud computing, one size definitely does not fit all. Firms are so often tied into a cloud solution that is too complex to or too basic for their needs.
However big or small your firm may be, we will tailor make a cloud solution to suit your size. Our team of Cloud Specialists ensure you will only ever pay for what you use, so there are no unnecessary or hidden costs.