Back to the Future Prize Draw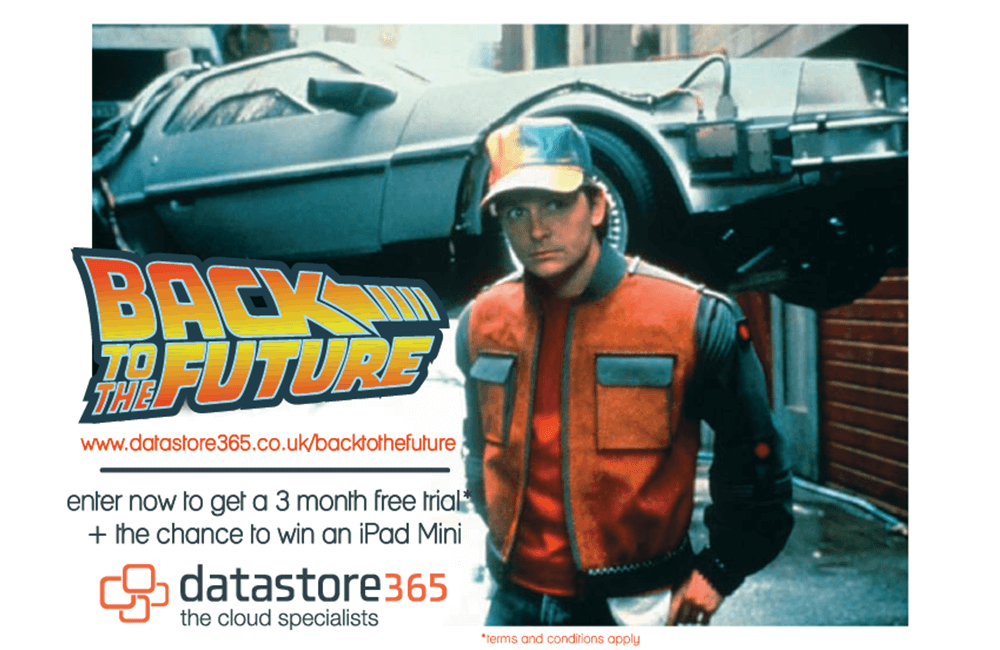 The future is here! You've probably noticed that today is not just an ordinary Wednesday. It is on this exact date that Marty McFly and Doc Brown travel to in the cult classic 1980s movie, Back To The Future II: 21 October 2015.
You've probably also taken a look around to see if any predictions made back in the eighties have become a reality. I think we can all agree that although the makers were close on a few things, the sky is definitely not filled with flying cars, not all dogs are being walked by drones, (despite what you've seen on youtube), and the pavements are not lined with plonkers on hoverboards. No further comment on that final observation!
If you haven't heard the hype about Datastore365's grand Back to the Future prize draw however, we're allowing one excusable reason – that you quite simply prefer space ships to time traveling cars and for that reason are more interested in the new Star Wars: The Force Awakens Trailer. You are excused.
Unfortunately we're disallowing all other excuses, including the following overheard in the Datastore365 office this morning:
'I've been indoors spinning my old dear a fancy vase on my new pottery wheel and didn't notice the date'
'I was so wrapped up in anticipation for the new Drake music video that I forgot all about Marty Mcfly and Datastore365's amazing prize giveaway'
… and my personal favourite – 'I've been spending a lot of time in front of the mirror staring at my sparse excuse for a moustache wishing it would grow in time for Movember'. (Gary Witts, 2015).
Spare us the excuses, you should know better! Whether you are a die-hard Back to the Future fan or not, you are all morally obliged to register your details online by the end of the month for a 3 month free trial* of any of our services, plus the chance to win an iPad mini  (Terms and conditions apply).
So in the meantime, keep your evening free and get the popcorn in, and keep those fingers crossed – it could be you!
*The purpose of the free trial is to evaluate the cloud services provided by Datastore365. There may be limits imposed by Datastore365 on the scope of the evaluation. By entering into the prize draw you are happy to be contacted by Datastore365 by phone and/or email.  Entry closes on the 1/11/15.
For more information and details about our safe and secure cloud services, head to our website – or get in touch with a Cloud Specialist today on 08000 481 848