Acronis Cyber Protect – Platinum Service Provider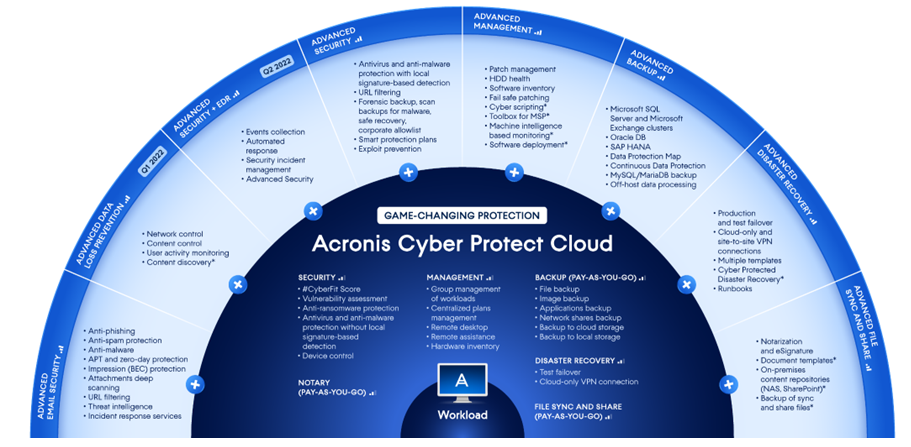 Acronis Cyber Protect is an endpoint protection EPP software system that can help you manage a number of different security functions from one platform. If you're in the market for an EPP, you'll want to consider Acronis Cyber Protect.
Acronis Cyber Protect is an innovative security product that brings data protection and cyber security into one system. The system comes with features for cyber security and endpoint protection, anti-malware and backup and recovery. Working on an identify, protect, detect, respond, and recover model.
Notably, Acronis Cyber Protect comes with features for backup and recovery that will let you patch your system with updated anti malware definitions before recovery to avoid the risk of re-infecting your endpoints.
Windows & Linux Servers
Acronis Cyber Protect comes in different packages depending on your workload type. You can deploy Acronis Cyber Protect on a number of different platforms including windows and Linux servers. Cloud and mobile applications are available for iOS and Android devices as well.
Features & Benefits
Acronis Cyber Protect comes with a number of features to help you manage security functions for cyber security. Cyber Protect offers features like anti malware, antivirus URL filtering and categorisation exploit prevention and vulnerability assessments. Notably, the system also comes with global threat monitoring and smart alerts. Acronis Cyber Protect keeps an eye on the global cybersecurity landscape and will alert users of new releases and threats, vulnerabilities and new malware. The anti-malware and antivirus feature is a more advanced version of Acronis active protection and protects against ransomware and crypto jacking.
In addition to standard malware, one of the key differentiators of a Acronis Cyber Protect is its data protection features, specifically file and disc image backup. This feature lets you back up individual files or data for your entire business for recovery. In the event of a disaster, other standout features here include safe recovery to protect against malware reinfection during recovery, forensic data collection to help businesses conduct internal investigations while remaining compliant, and app whitelisting based on backup contents.
Endpoint Protection Management
Acronis Cyber Protect also comes with endpoint protection management features like patch management, remote desktop and assistance, and you can remotely wipe devices. The failsafe patching feature makes an automatic image backup before implementing new patches. This means you can roll back if a patch causes issues for reporting. Acronis Cyber Protect comes with a customizable dashboard tool that users can build with a number of different widgets. Cyber Protect is a top-rated product, but it still comes with its pros and cons.
One of the biggest pros of Acronis Cyber Protect is ease of use for both end users and service providers. This system also handles terabytes of backups. Helpful features like malware scanning for backups and safe backup recovery are not available in lower tier additions. Our team are here to help you understand if Acronis Cyber Protect is right for you.
Call us today on 08000 481 848 or book a free 30 minute discovery session with our cloud experts here: https://www.datastore365.co.uk/contact/