3 Reasons why Office 365 Backup is Crucial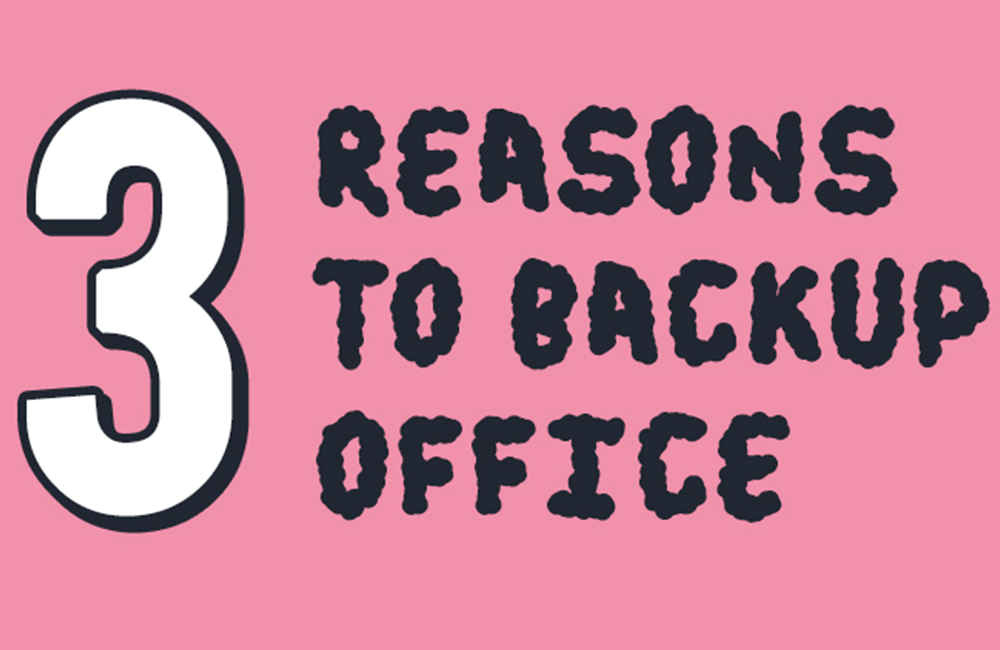 Microsoft may host the infrastructure for Office 365, but this doesn't mean you aren't responsible for maintaining the backup of your data.  There is a false impression that data created and stored in clouds such as Office 365 do not need to be backed up beyond what is already in place. That simply isn't true. The backup and recoverability that Microsoft provides and what users assume they are getting are often different. Here's 3 reasons why you need to back up your office 365 now:
Where is your data stored?
Office 365 offers a whole host of applications and data structures all stored in the cloud. But where exactly is your data stored? Lets say you did have to retrieve it, would you know where to find it?
According to the Microsoft Trust Centre: "Customer data may be replicated within a selected geographic area for enhanced data durability in case of a major data centre disaster, and in some cases, will not be replicated outside it." Many people don't realise that their data — whether that be emails, OneDrive documents, group conversations — are separate, and sometimes stored separately. So the only way to backup it all up, and restore all of it, is with a system designed to do just that. This is not an easy task, and sometimes nearly impossible to do with the native Office 365 backup tools.
Short retention span
While Office 365 has methods to preserve deleted files, emails or entire mailboxes, the data may only be retained temporarily. Data is not always recoverable after this period has expired, which might come as a shock to the 95 percent of organisations believe their SaaS provider can easily restore their lost data. Having third-party backup and recovery capabilities is the only way businesses can ensure they are fully protected against data loss should this retention period run out.
Something you may not be aware of is Microsoft Outloo does not backup emails older than 30 days that have been deleted from the bin. Team that with limited email storage and what you have is end-users who are forced to delete old emails. The danger in a limited file storage policy is when your employees delete their old emails to save space, they are potentially destroying records that may be required by your auditor. The recent laws on GDPR requires firms to keep complete and accurate records of email, attachments, files and related information for many years. Therefore, it's important for organisations of all sizes to ensure data is readily accessible in the cloud according to key requirements for compliance.
Internal and External security threats
Data loss is possible in this new world of hackers and data hostage viruses. Many firms have faced the dreaded ransomware attack that literally took down their business. Given the amount of value in their cloud data, organisations must take extra steps to protect it from outside hackers, as well as insiders who may maliciously alter or permanently delete business-critical data.
Access to files and contacts changes so quickly, it can be hard to keep an eye on those in which you've installed the most trust in. Microsoft has no way of differentiating between a regular user and a terminated employee attempting to delete critical data before they leave your business. Furthermore, some users, by mistake, create serious threats by downloading infected files or accidentally leaking usernames and passwords to sites they thought they trusted. The only way to truly protect your business from a ransomware attack is by having a full and complete backup and archive of all your data. Anything less, and your business is in danger of being severely impacted by the loss of data.
The Solution
It's time to invest in an Office 365 backup service and strategy that goes well beyond what Office 365 offers. You've already made a smart decision by deploying Microsoft Office 365, now find a backup solution that offers you complete access and control of your data and avoid the unnecessary risks of data loss.
Veaam Backup for Office 365
Veaam Backup for Office 365 includes many features specifically designed to make backup fast, easy and secure. Contact one of our backup specialists who can provide more information on how it can improve your business continuity and helping you reduce the risk of data loss.