10 Disaster Recovery Key Terms You Need to Know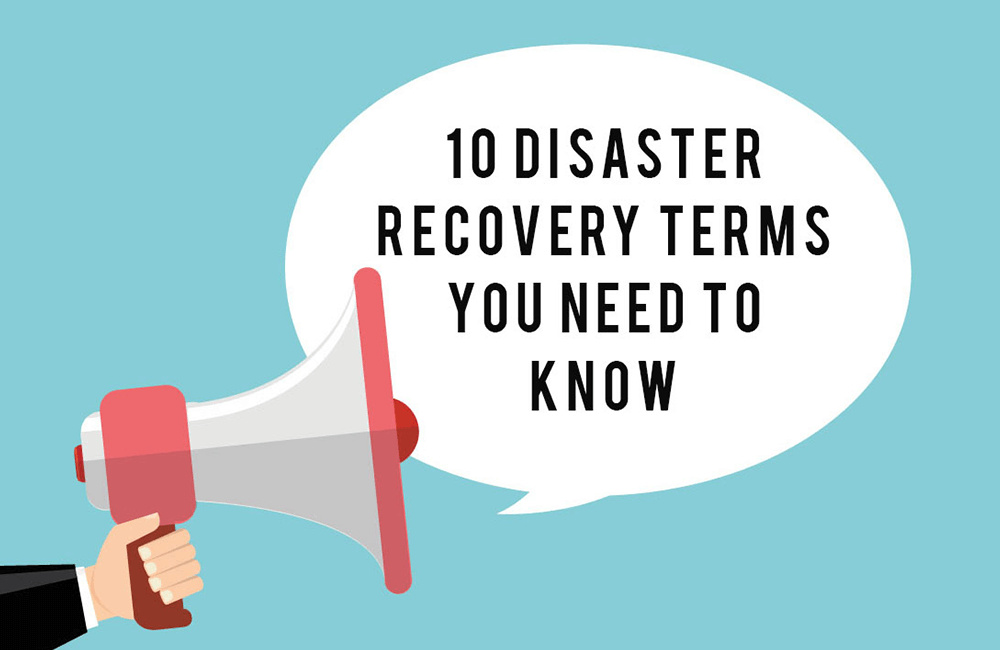 Understanding Disaster Recovery and business continuity planning is crucial to ensuring your business is well prepared should an incident occur.  Below we've defined 10 key terms to get you started.
Disaster Recovery
Lets start with the basics. Disaster Recovery is an area of security planning that aims to protect your business from the effects of significant negative incident. It allows an organisation to maintain business continuity following a disaster. In IT terms, a 'disaster' can be anything that puts your businesses operations at risk, from a cyber attack to natural disasters. The goal with Disaster Recovery is for a business to continue operating as close to normal as possible. This process can be more efficient by developing a Disaster Recovery Plan.
Disaster Recovery Plan
A Disaster Recovery Plan is a set of processes created to recover and protect a business IT infrastructure in the event of a disaster. It is an important part of business continuity planning, especially to organisation that relies heavily on an IT infrastructure to function. Not having a disaster recovery plan in place can put the business at risk of high financial costs, reputation loss and an even higher risk for its customers and employees.
Disaster Recovery as a Service (DRaaS)
Disaster Recovery as a Service is a cloud backup service model that uses cloud resources to protect important data from disruption caused by a disaster. It allows an organisation to have a total system backup that maintains business continuity in the event of system failure. DRaaS allows these applications to run on virtual machines at any time, even without a real disaster.
Downtime
Downtime is a phrase used when a system or service is not working at a given time. In IT, downtime costs money, so businesses need to plan ahead in order to prevent it. Businesses often have not calculated what an hour, a day or even a week of IT downtime would actually cost the organisation. Conducting a thorough Disaster Recovery Plan can help identify ways of minimising downtime and obtaining business continuity.
Business Continuity
Business Continuity is best described as the capability your business has to continue operating effectively following a disruptive incident or disaster. It's about taking responsibility for your business and enabling it to stay on course whatever the incident.
Business Impact Analysis
Business Impact Analysis is a process used to determine and evaluate the potential effects a disaster could have to critical business operations. It's an important part of an organisation's Business Continuity Plan. It's also a great opportunity to highlight any vulnerability or develop new strategies for minimising risk. This can also be a great way to identify potential costs that could be lost due to a disaster for example, replacing damaged equipment, loss of cash flow, loss of profits and so on.
Recovery Time Objective (RTO)
Recovery Time Objective is the target time your business can resume activity in the aftermath of a disaster. An RTO can help calculate how quickly you need to recover, which can then dictate the steps you need to implement and the overall cost you should assign to business continuity.
Recovery Point Objective (RPO)
Recovery Point Objective is a totally different thing and can often get confused with RTO. RPO is the maximum tolerable period in which data might be lost. Recovery Point Objective is crucial for determining the frequency of backup. Remember, the more frequent the backup, the less data you risk losing. However, backing up more regularly might cost you more money.
Virtual Infrastructure
A virtual infrastructure lets you share your physical resources of multiple machines across your entire infrastructure for maximum efficiency. Virtualisation brings positive transformations such as reduced hardware costs, better disaster recovery solutions and more efficient and economic use of energy. It may seem like a daunting task to move to a virtual infrastructure, and without proper expertise it can.
Infrastructure as a Service
IaaS is one of three main categories of cloud computing. It describes a cloud-based infrastructure that is provided as a service for a time-based rental model (typically per month). IaaS provides hardware, storage, servers and datacentre space or network components.