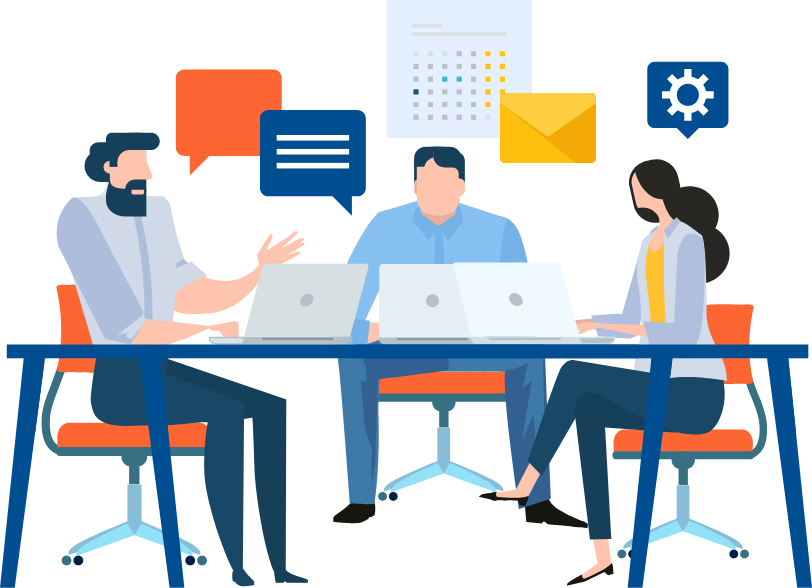 Microsoft Office has been the number one productivity and communication suite for businesses and individuals for many years now. It's now known to millions as Office 365.
From its humble word processor beginnings, the Office suite now provides access to online
meetings, cloud services and more – and you can even access the best of Office 365 from a mobile device, too.
What exactly is Office 365 for Business?
Office 365 is Microsoft's famous raft of productivity software, put together in one package. Office 365 Business, for example, provides apps for enterprise users that allow for word processing, spreadsheet creation and presentation design.
The main components (office apps) of Microsoft Office 365 are:
Microsoft Word (for creating documents and word processing) Microsoft
Excel (for creating spreadsheets, charts and formulas)
Microsoft Powerpoint (for creating and showcasing presentations) Microsoft OneNote (for taking and organising notes and minutes)
Microsoft OneDrive (for intelligent cloud services and cloud storage space) Microsoft Teams (for online meetings and video conferencing)
Microsoft Outlook (for email communication and calendar management)
By taking Office online, Microsoft now provides a scalable, always-on series of Office applications that users can log into and use from almost anywhere in the world. In the day and age of working remotely and flexibly, it's proving to be a genuine asset.
Of course, there are a number of business plans available for enterprises to take advantage of – and we will take you through the main differences a little further down. Your Office 365 subscription plan, for example, may change the services you have access to.
Why do businesses use Office 365?
Businesses use Office 365 for its amazing flexibility and scalability. While many enterprises will have grown with services such as Office 2013 in-house, Microsoft upgraded their popular suite so that it can be enjoyed anywhere with a data connection.
Office 365 is famous for its fantastic range of features and apps for business no matter what their industries or specialisms may be. Business owners can scale up and down with user licenses, and can even arrange a certain amount of storage per user depending on their subscription level.
Office 365 services provide business managers and their teams with incredible access to a productivity cloud that scales with them. As early adopters of the public cloud Microsoft has rolled out a one-login, agile team collaboration cloud platform that keeps all users on the same page.
Not only that, but those taking advantage of Office 365 also have access to Microsoft's world-class security services, providing incredible protection over sensitive data on the go. Advanced security operations are easy to manage through mobile apps and via desktop mode.
Even better, of course, is the fact that any users already used to traditional versions or previous versions of Office will likely adapt well to this modern line-up. The app versions (and even ad- supported versions) of Office 365 are intuitive to learn – if you've already sampled email hosting, word processing and admin controls through Office before, there's very little left for you to master.
What Office 365 enterprise plans are there?
Office 365 Business plans scale up for SMEs, medium offices and larger enterprises alike. There's an Office 365 subscription service for almost every need. Let's take a look at the highlights.
Office 365 Business Essentials
Otherwise known as Business Basics, this package starts from £3.80 per user, per month, and offers you the best of Office's security standards, cloud storage, planner, and mobile apps for all the top suites and programs. If you're simply looking for Office web apps, this is the package to choose.
Office 365 Business Premium
Office 365 Business Premium starts from £9.40 per user per month, and adds on additional desktop support, as well as tools to help expand and scale up your business.
Office 365 Enterprise E1
For enterprise users, Office 365 E1 offers an entry level suite of applications, providing secure access to Streamer, SharePoint, OneDrive, Exchange, Teams and Yammer. It starts from £6 per month, per user.
Office 365 Enterprise E3
Office 365 E3 goes one step further and adds in document creation, database management and
more. You benefit from everything in E1 as well as Excel, Powerpoint, Outlook and Word on desktop and mobile. Business customers on E3 can also use Publisher and Access in PC mode. It's £17.60 per month, per user.
Office 365 Enterprise E5
Office 365 E5 is the biggest and best of all enterprise solutions – you'll benefit from all of the above as well as Power BI, and 100GB email as standard. That's available from £30.80 per month, per user.
What's the difference between Office 365 and Microsoft 365?
As strange as it seems, there's a difference between Office 365 for Business and Microsoft 365.
Microsoft 365 is your all-in-one mobile business in a box. More than simply offering basic apps and suites, Microsoft 365 allows business users to manage devices on the go, and to scale up their Office 365 apps across PC and mobile.
Access to Office is one thing – but with an annual subscription to Microsoft 365, you also benefit from extensive security features – and all the feature updates you could hope for, updated automatically and regularly with you having to lift a finger.
As the top solution in the Office 365 and Microsoft 365 line-up, it's available at £15.10 per month, per user.
Is it worth investing in Office 365 for my business?
Yes – whether you choose a one-year subscription or to set up Office 365 for a little longer, Office 365 is infinitely scalable – and you only ever pay per user, not per device.
Device management and access management solutions available through Office 365 are also smooth and easy to handle – and you can easily build a community of users without the need for extensive training.
Academic institutions and educational institutions have sworn by Office 365 for many years now – why shouldn't the average office or business get involved, too?
Office web apps are intuitive, affordable, and enable users to access cloud storage space wherever they have access to an internet connection.
There's a wealth of additional features to Office 365 that are hugely beneficial to small and larger enterprises alike. From setting up business email addresses to refining tasks with on-board automations, Office 365 is the modern standard all flexible working spaces should aspire to.
Office 365 brings flexible workspaces and cloud access without the escalating costs. Be sure to take a closer look at our Office 365 for Business packages and services now – especially if you are in dire need of an upgrade!