Why the healthcare industry is moving to the cloud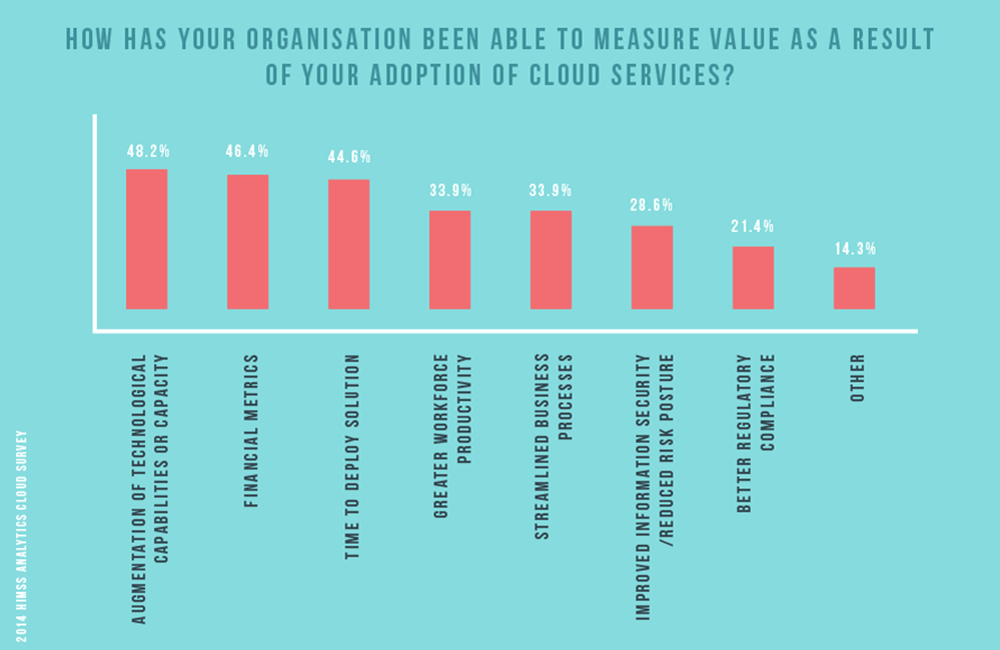 More firms within the healthcare industry are adopting cloud-based services than ever before.
So why is the healthcare industry moving to the cloud?
Accessibility, collaboration and file sharing features make the cloud an ideal solution for the healthcare industry, providing hospital staff with the ability to instantly retrieve and share healthcare data on demand. Using a cloud solution for storing and sharing large data files, not only saves doctors surgeries, hospitals and other organisations in health care a great deal of money, a cloud solution will also boost speed and efficiency, whilst an automatic backup solution can protect an organisation from cyber attacks.
Organisations have been able to measure value as a result of adopting a cloud solution across many areas of the business, including better regulatory compliance and an improvement in streamlined business processes.
Augmenting technological capabilities or capacity (48.2%), making a positive contribution to financial metrics (46.4%) and time to deploy (44.6%) are the top three benefits of utilising a cloud solution in the healthcare industry, followed by a greater workforce productivity (33.9%) and improved information security at 28.6%. (Forbes).
Unfortunately, Hospitals Are the Perfect Target for Ransomware Cyber Attacks
Ransomware works by locking your computer or device, preventing you from accessing your data. The data is then held at ransom, until the owner pays a set fee. In this case, hospitals are left without access to emails, appointment diaries and important medical history files.
Despite ransomware and other forms of malware being around for a significant amount of time, it has only made the headlines recently for hitting the healthcare industry, and hitting it hard. Hospitals and healthcare organisations are such a prime target due to their constant need to access data. Without quick access to medical history, medical images and other information, patient care can 'get delayed or halted, which makes hospitals more likely to pay a ransom rather than risk delays that could result in death and lawsuits.'.
A victim then has two options: pay the ransom or restore their critical data from backups. A key advantage of having a cloud backup solution in place is the ability to almost instantly restore data from previous backups in the event of such attack occurring, allowing an organisation to avoid paying the hefty ransom fee.
Cloud Computing Provides Complete Protection
Yes the cloud can provide hospitals with a more streamlined and efficient method of working, but the utmost important benefit is the overall protection and confidentiality of your patients' private data that is critical to your practice.
With automated backups, data is automatically backed up overnight, comprehensively protecting all critical data and providing your organisation with a safety net in case disaster strikes. With a Datastore365's online backup solution, there's no hardware to install or maintain, no technical mishaps to troubleshoot, no wires to connect and no outdated tapes to deal with.
Consider it as a safety net, providing healthcare organisations with a safe pair of hands in the event of a cyber attack, accidental deletion or natural disaster. With a cloud solution in place, files can be instantly retrieved, allowing appointments and paperwork to be completed as normal.
Want to know more? Get in touch.
Speak to a cloud specialist today to learn more about how we can help your business