The Secret to a Good Nights Sleep: Revealed!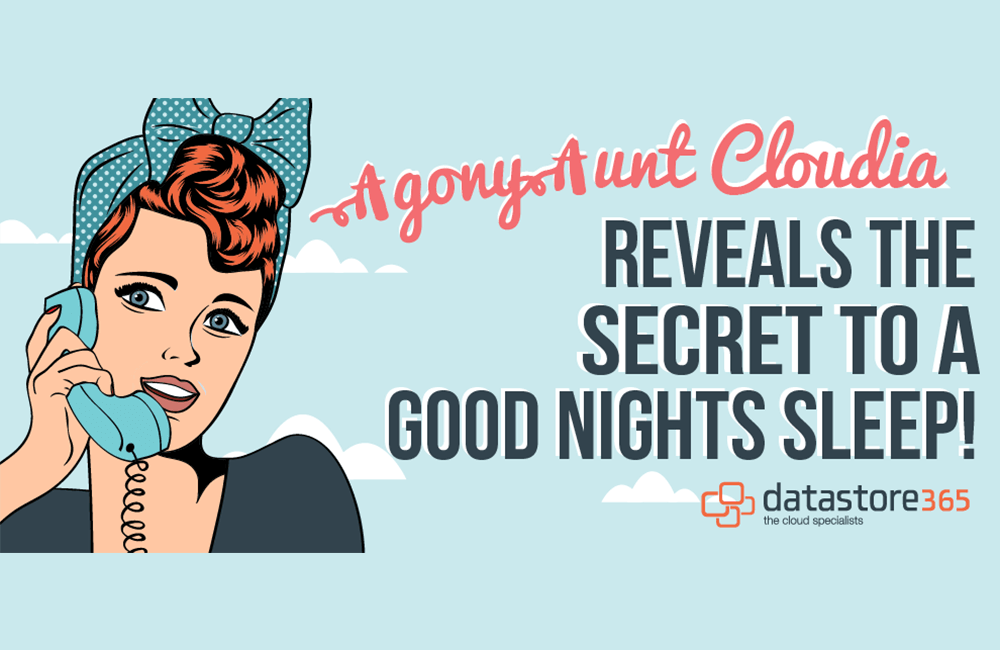 Today, our resident Agony Aunt Cloudia reveals the secret to a good nights sleep.
So whether you have a secret habit of sleep-walking to the fridge, a heavy conscience, or just simply struggle to catch forty winks – you're in the right place – have a read of our guide to achieving a pretty damn great nights sleep, Datastore365 style.
Cloudia is a fiery redheaded cloud computing pro who's here to spread the good word about the benefits of cloud computing and to answer any questions you may have on the matter.
Purchase a pair of good quality ear-plugs, plump those pillows up and invest in some safe and secure online backup.
The top three disrupters to a great night's sleep are noise, an uncomfortable bed and temperature. Which is where we ought to make a little confession. Although Cloudia has committed to providing you with some expert advice on how to get a good night's sleep, we're not sleep scientists… so in addition to investing in a good pair of ear-plugs, we're going to bring your attention to the safety of your critical data.  Who can blame us? We are cloud specialists after all.
Research shows that worrying about the safety of others – or in this case – the safety of your organisation's valuable data, can cause you to have trouble drifting off, it's only natural. So, to rectify this problem, we have put together a solid set of sleep rules to help you achieve a great nights sleep… starting with selecting a safe and secure cloud provider with a proven track record.
We do the monitoring, so you can do the sleeping.
Investing in a cloud backup solution means the safety of your critical data is monitored around the clock. In addition to our team of dedicated cloud specialists who, by the way, eat, sleep and breath cloud computing, our datacentres are physically monitored and protected around the clock with 24/7 manned security. With this level of security and cloud computing expertise in mind, we can almost guarantee you a fantastic night in slumberland. Let's face it – disaster could be right around the corner – so it's better to be safe than sorry.
We combat the baddies, so you can dream about the goodies.
Cyber scares and ransomware attacks are becoming an increasing threat to organisations, which in turn has unfortunately resulted in an increased number of bad dreams. Many businesses do not have the expertise, in-house IT department or budget to keep a steady pace with the ever-increasing number of sophisticated cyber-attacks. But, by using the cloud, data is kept safe at the fraction of the cost. We ensure that our team of technical cloud specialists dedicate their time to maintaining the highest possible level of security, protecting your data from harm, and allowing you to sleep right through to 7am.
We hope that our guide has encouraged you to consider the benefits of using the cloud but if you would like to learn more about how the Datastore365 cloud can work wonders for your organisation, don't hesitate to get in touch.
Want to know more? Get in touch.
Speak to a cloud specialist today to learn more about how we can help your business