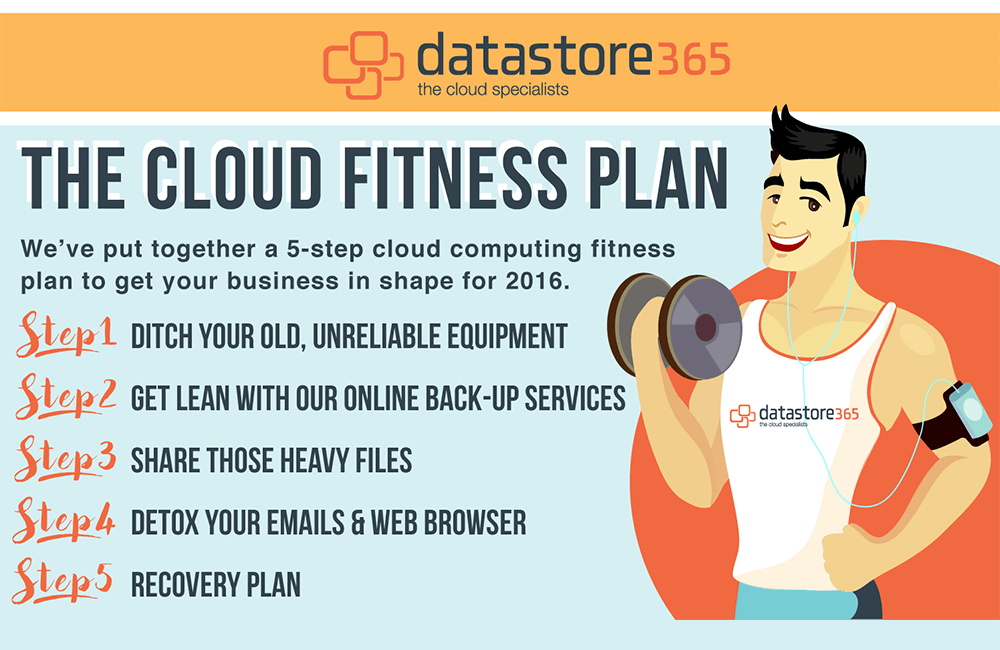 Are you struggling to set your business a New Year's resolution?
Don't you worry about a thing, our team of cloud fitness specialists have put together a perfect workout plan to whip your company into shape for the new year.
Step #1: Ditch your Old, Unreliable Equipment
Replace your tired and unhealthy servers with our efficient and reliable Cloud2Day Virtual Infrastructure.
Step #2: Get Lean with Our Online Back-up Services
Throw away that old-fashioned tape backup and replace it with our lean and mean online back-up services.
Step #3: Share Those Heavy Files
Stop trying to send large files via email! Use our File Synce & Share service to transfer those big heavy files from one place to another.
Step #4: Detox your Emails & Web Browser
Filter unwanted unwanted spam and malicious content from your computer with our web and email filtering service.
Step #5: Recovery Plan
Choose from our broad range of virtual disaster recovery services to ensure that your business continues to run at its optimum fitness level throughout 2016.
Are you ready to take the next step to the cloud? If you'd like to speak to the Cloud Specialists, call Datastore365 today on freephone 08000 481 848
Want to know more? Get in touch.
Speak to a cloud specialist today to learn more about how we can help your business